Description
Comtech LPOD PS2- 125W BUC is a 125W PSAT KU-Band BUC with a frequency range of 13.75 to 14.5 GHz. This BUC is completely unused and has a full set of cables for M&C access. The A/C power connector is included allowing the new owner the choice of making their own cable.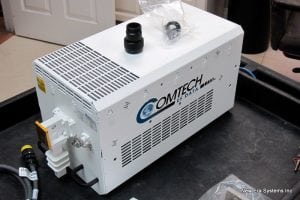 Comtech EF Data's LPOD family of Outdoor Amplifiers / Block Up Converters (BUCs) – referred to collectively throughout this manual as the LPOD – deliver their rated power, guaranteed, to the transmit waveguide flange at the 1 dB compression point.
The LPOD provides a cost effective, more reliable replacement for Traveling Wave Tube (TWT) amplifiers in satellite communications.
Comtech EF Data's extensive experience in the design of outdoor RF transceivers led to the LPOD family's efficient thermal and mechanical package. Recognizing the evolution of L-Band IF systems, the LPOD is designed to eliminate the traditional requirement for the modem to supply a DC power source and a 10 MHz reference to the BUCs and LNBs.