Description
Comtech EF 50W C-Band BUC has a full model number of Comtech EFData LPC0-63.
The BUC is labeled as 50 watt PSAT with a 40 watt P1dB output. The frequency range is standard C-Band  is 5850 to 6425 GHz.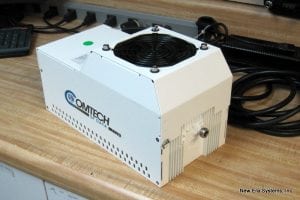 This Comtech EF 50W C-Band BUC has never been used in production, it is in brand new condition. We supply it with a power cord and a 60 day warranty.
More Details:
Comtech EF Data's extensive experience in the design of outdoor RF transceivers led to the LPOD family's efficient thermal and mechanical package. Recognizing the evolution of L-Band IF systems, the LPOD is designed to eliminate the traditional requirement for the modem to supply a DC power source and a 10 MHz reference to the BUCs and LNBs.
The LPOD's optional internal reference and LNB bias T greatly simplify multi-carrier operation and provide cost-effective redundant solutions. The LPOD offers valuable features not found in other L-band BUC products. The PS2 version can be configured as an integrated BUC/SSPA (L-band in, RF out) or solely as an SSPA (RF in, RF out) at power levels to 250 W.
The PS1 is always configured as a BUC/SSPA with available power levels to 50W.