Description
Belcom mBLC-5-F 5W C-Band Antenna BUC
This is a used Belcom mBLC-5-F 5W C-Band Antenna BUC with type F connector and WR137 flange. Testing has shown that this BUC utilizes full five watt P1dB.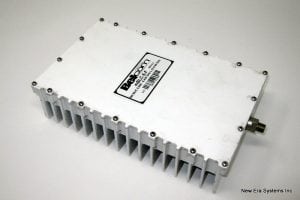 Belcom mBLC-5, "Spark" series, 5 Watt Standard C-Band Block Upconverter. Input Frequency: 950-1525MHz, Output Frequency: 5.85-6.425GHz, Output Power: 5W (P1dB), Input: 75 Ohm Type F, Power Requirement: 24VDC (via IFL) 48W max, 4.08 lbs (1.85 kg )(mBLC-5-F)
The entire series of Belcom SPARK BUC's
The largest VSAT companies have been using the entire series of Belcom SPARK BUC's for over 20 years. With its robust and rugged design the SPARK BUC's are able to withstand extreme outdoor conditions. Belcom's high-level development experience along with large volume manufacturing capabilities, provide clients with unmatched cost savings. New SPARK products are covered by a complete two-year warranty and are also backed by a dedicated service team that ensures a full repair cycle in no more than 21 days.