Description
Used XTRS-100 100W C-Band SSPA tested and guaranteed in good working condition.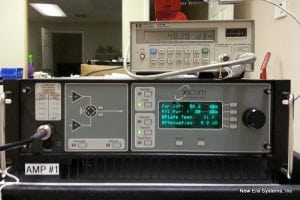 100W C-Band SSPA, 5.85 to 6.425 GHz. 4RU high
The XTRS-100C is a highly efficient rack-mountable solid state power amplifier (SSPA) designed for fixed and mobile uplink applications. RF filters, isolators, cooling, and monitor and control (M&C) systems are all self-contained within the package. Rack space is conserved because the amplifiers occupy only 4 rack units (7 inches) of a standard 19 inch rack cabinet. Nominal weight is 85 pounds.
The unit features a menu driven front panel display, RS-232/422/485 serial port and Ethernet interfaces for complete computer control. Forward power, reverse power and temperature, and default parameters are easily monitored on the four line front panel display. Gain control is provided via the front panel or through the remote interfaces.